Image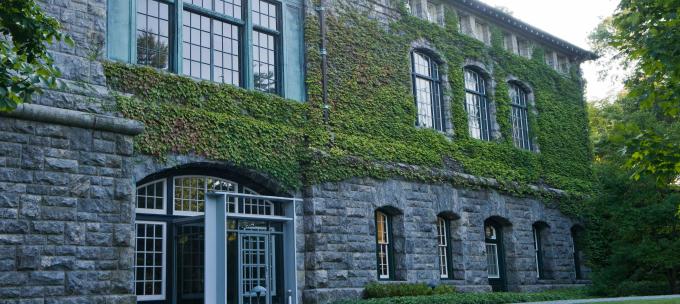 Facility Information
Accommodations
Conference guests are lodged on the second floor of the Coach Barn and on the third and fourth floors of Kykuit. All accommodations have a private bath. Hair dryers are also provided in each bedroom. Electrical service is 115 volts/60 cycles; adapters are available upon request. All bed linens and towels are provided by The Pocantico Center. To help minimize the impact of the Center's operations on the environment, linens are not changed daily, unless requested. Read more about our sustainability efforts.
Artist residents are housed at the Marcel Breuer House or other residential buildings. Housing is communal, with shared bathrooms, living, and dining spaces. Most bedrooms have twin beds, and rooms may be shared depending on group size. Each building is equipped with a full kitchen, washer and dryer, and linens. All food, lodging, and housekeeping costs are provided during the stay. A grocery stipend is provided, with residents responsible for preparing their own meals. There are two electric vehicles available for residents to use on campus only, as well as electric car charging stations on site.
To the fullest extent under New York law, the RBF shall not be liable for lost or damaged property of conferees, residents, or guests at The Pocantico Center, including accommodations, shared spaces, and historic property.
Meeting Facilities & Support Services
The Pocantico Center's meeting facilities are located in the Coach Barn. The building's interior has been renovated and adapted to offer two main meeting rooms and several additional spaces for break-out discussions. It is well supplied with audiovisual equipment, fax machines, and computers (IBM-compatible) for use by meeting participants. Read more about The Pocantico Center's meeting facilities [PDF].
Support services are generally provided by meeting organizers. Simultaneous translation is available upon advanced request. The Pocantico Center's staff can provide recommendations for other service providers, including ground transportation.
Creative Facilities
The David Rockefeller Creative Arts Center provides a visual arts studio as well as performance and rehearsal space with a sprung floor and AV system (technical specs available on request). Marley, ballet barres, keyboard, and music stands are available upon request. There is a piano in the Conference Center Hayloft that may also be available. Other instruments, amps, props, and computers, etc., must be provided by the artist and coordinated with Pocantico staff ahead of time. 
We do not have facilities for set design or fabrication, nor can we accommodate tech residencies.
Accessibility
The Pocantico Center campus is spread out across a number of buildings connected by both paved roads and footpaths. Handicapped parking is available at Pocantico, and most public areas are wheelchair accessible. In addition, there are two ADA accessible bedrooms available for conference attendees. Bathrooms in these rooms are equipped with handrails.
Abeyton Lodge, Coach Barn, and Kykuit have elevator access.
We welcome service animals trained to perform tasks for people with disabilities; please contact our staff in advance of your arrival to ensure proper arrangements. Pets and emotional support animals are not permitted at Pocantico.
Please contact us in advance if you have specific ADA concerns so we can ensure you the most comfortable stay.
Recreation
Guests are welcome to stroll the grounds and gardens, as well as to go jogging on the roads and trails outside of the estate. Paths are clearly marked where access is restricted. Exercise equipment is available in the Coach Barn and at Abeyton Lodge.
Telephone, Fax, and Business Center
Wireless high-speed Internet is available to guests in each building, including the artist residences. Computers are available in the business center in the Coach Barn.
Each bedroom at the Coach Barn and Kykuit has a private telephone number with voice mail. During business hours, messages will be taken by the Center's staff at +1 (914) 524-6500. Facsimile messages may be sent during normal business hours from the front desk. Faxes are received 24 hours a day at +1 (914) 524-6550 and distributed as promptly as possible.
Sculptures and Artwork
Guests are not permitted to touch, sit on, mount, or climb any sculptures, fountains, artwork, and historic architectural elements on the property.
Guests
Unregistered visitors, including family and friends of conference participants and artist residents, are not permitted without prior approval by RBF staff.
For more, please see our General Visitor Information page.