Image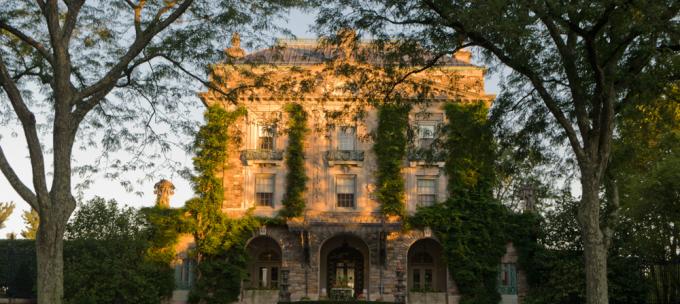 Kykuit
Kykuit (derived from the Dutch word for look-out) is set high above the Hudson with dramatic views of the river and Palisades. It has been home to four generations of the Rockefeller family. Kykuit was first designed in 1908 by William A. Delano (1874-1960) and Chester H. Aldrich (1871-1940). In 1913 the building was substantially altered to become the four-story Beaux-Arts villa as it stands today reflecting the classical vocabulary of architect William Welles Bosworth (1869-1966), who also designed the gardens. It is constructed of locally quarried rough-cut fieldstone and Indiana limestone.
Ogden Codman's (1863-1951) neo-classical interiors include English furnishings and collections of Chinese and European ceramics, family portraits, and portraits of George Washington, Benjamin Franklin and Abraham Lincoln. In the early 1960s Nelson Rockefeller added galleries of 20th century art, including works by Alexander Calder, Andy Warhol, Robert Motherwell and a collection of Picasso tapestries. Welles Bosworth designed the dramatic hilltop terraces and formal gardens with pavilions, grottos, fountains and classical sculpture. The Oceanus Fountain commands the forecourt. Commissioned in 1913, it is a replica of Giambologna's fountain of 1576 for the Boboli Gardens of Florence. The original garden design incorporated sculptures and fountains after Renaissance models and sculpture by George Grey Barnard, Karl Bitter, Janet Scudder, among others. In the 1960s and 1970s Nelson Rockefeller added more than 70 works of modern sculpture by European and American artists, including Henry Moore, Aristide Maillol, Louise Nevelson and Pablo Picasso. Their placement in the gardens evidenced his keen eye in choosing the perfect place for each.
Kykuit, a property of the National Trust for Historic Preservation, is maintained and administered by the Rockefeller Brothers Fund. 
TOUR INFORMATION
Historic Hudson Valley offers public tours of the house and gardens from May through November.