Increased 2020 Grantmaking Boosts Democratic Integrity, Sustainable Economy, Racial Justice
Image
In June 2020, the Rockefeller Brothers Fund announced $48 million in new grantmaking over the next five years to respond to the "hinge moment in history" presented by the global COVID-19 pandemic, rising momentum against persistent racial injustice, a growing climate crisis, and widening economic inequality and social division fueled by failures of our democratic and capitalist systems.
Under the heading "Seizing the Opportunity," the proposed spending includes $2 million to bolster U.S. election protection, $10 million for work on new economy and climate, and $2 million for international systems reform. It also includes $14 million for the implementation of the recommendations to reinvent U.S. democracy in Our Common Purpose, the final report of the American Academy of Arts and Sciences' Commission on the Practice of Democratic Citizenship, co-chaired by RBF President and CEO Stephen Heintz. The spending commitment allowed the RBF to establish the Racial Justice Initiative (RJI), a $10-million, three-year effort to advance racial justice in America through our systems and institutions of justice, governance, economy, and civic culture. The final $10 million was approved to stabilize grants budgets across all portfolios during a period of expected market volatility.
In 2020, the RBF has committed nearly $9 million of these funds to support 11 grantees, including both long-term RBF partners and new organizations, coalitions, and initiatives. Each reflects the RBF's long view of social change and shares the conviction that lasting progress demands systemic transformation and reinvention driven by diverse coalitions of groups and individuals. You can read more about our 2020 Seizing the Opportunity and Racial Justice Initiative grantees below.
2020 Election Protection
Dēmos
$450,000
Founded in 2000, Dēmos is a "think-and-do" tank that conducts policy research, cultivates grassroots relationships, and advances strategic litigation to support movement actors working to create a democracy and an economy that are rooted in racial equity. In the lead-up to the 2020 elections, its Inclusive Democracy Project provided legal support, technical assistance, thought leadership, and other increased capacity to support local partners in 15 states working to protect election integrity and expand access to the ballot, especially in Black and Latino communities targeted by disinformation and disenfranchisement schemes.
---
Lawyers' Committee for Civil Rights Under Law
$300,000 (in addition to resources from other RBF budgets)
The Lawyers' Committee for Civil Rights Under Law was founded by President John F. Kennedy to secure equal justice for all under the rule of law, with a focus on voting rights, economic justice, criminal justice reform, and education. Its national, nonpartisan, year-round Election Protection program convenes more than 200 partners, 100 law firms, and thousands of trained legal volunteers to assist over 100,000 voters each election year. Its signature 866-OUR-VOTE hotline allows voters around the country to identify and report obstacles that likely impact thousands and supports interventions to increase access to the ballot.
---
State Infrastructure Fund
(a project of NEO Philanthropy)
$500,000
The State Infrastructure Fund (SIF) is a donor collaborative fund that makes grants to state-based nonpartisan organizations working to increase civic participation and advance voting rights among historically underrepresented populations, remove barriers to voting through education and litigation, and strengthen election protection networks. In 2020, SIF began the Election Protection Mapping Project to provide a roadmap for long-term election protection efforts, identify gaps in funding for election protection, and undergird the election protection infrastructure in 2020 and beyond.
---
The Trusted Elections Fund
(a project of the New Venture Fund)
$1,750,000
The Trusted Elections Fund (TEF) is a rapid-response pooled fund that made grants for organizations to plan for, prevent, and respond to threats to the integrity of the 2020 U.S. general elections, including the possibility of foreign intervention, disputed results, election-related violence, or major emergencies that could affect polling places. In early 2020, TEF assisted election officials with reforms to accommodate the impact of the COVID-19 pandemic on voting. Later grants worked to identify vulnerabilities in law, policy, or procedures; to build partnerships that help inoculate communities from election-related violence; and to strategize about unprecedented election crises that have no established protocols.
---
New Economy & Climate
Green New Deal Network
(a project of the Tides Foundation)
$2,000,000
The Green New Deal Network is a broad coalition of 36 organizations that reflect the intersections of climate, economy, and race. In September, the Network launched its centerpiece effort, the THRIVE Agenda, to transform, heal, and renew American society by investing in a vibrant economy. The THRIVE Agenda provides a tool to mobilize actors at the state and federal levels to facilitate a socially and economically equitable transition to a cleaner future that enables greater access to clean energy, clean air, and clean drinking water for all. It has been endorsed by over 100 members of Congress and 300 organizations.
---
Our Common Purpose
American Promise Education Fund
$100,000
The American Promise Education Fund (APEF) works to mitigate the influence of money in politics and secure political equality. APEF coordinates state and local Citizen Empowerment Chapters that offer training, support cross-partisan relationship-building, and develop curricula to educate Americans about campaign finance law and a possible 28th amendment to the U.S. Constitution that would allow for Congressional regulation of campaign finance. Its National Citizen Leadership Conferences bring together civic leaders and organizations from all 50 states to develop effective advocacy efforts.
---
Citizen University
$100,000
Citizen University was founded in 2011 to catalyze a civic revival in the United States in which Americans are educated in the tools of civic power and able to contribute to a self-governing community. Over the coming years, it seeks to strengthen civic faith and build a culture of powerful and responsive citizenship by bringing together Americans—including local communities, students, and catalytic leaders—to nurture a sense of shared purpose, engage around ideas of civic power, support one another though commitment of mutual aid, and amplify stories that speak to what it means to be an active citizen.
---
iCivics
$100,000
iCivics was founded in 2009 by Justice Sandra Day O'Connor with the goal to transform civic education using innovative games and resources. Today, nearly 200,000 teachers use iCivics to provide a meaningful civic education to more than five million students in all 50 states. However, only nine states and the District of Columbia currently require a full year of U.S. government or civics. CivXNow, a project of iCivics, will build a national coalition, support state and federal efforts, and launch a media campaign to restore U.S. civic health by making civic education a priority in all K-12 schools.
---
The Great Reset
(an initiative of Rockefeller Philanthropy Advisors' project Unite)
$200,000
The Great Reset works to reinvent American democracy by advancing targeted reforms that focus on three key pillars: civic education, national service, and political reform. The initiative will support collaboration among the diffuse and disparate organizations already working on these pillars and unite multiple movements to coordinate on strategy and messaging, serve as a hub for fundraising and regranting, and build a powerful constituency in support of change. The Great Reset will officially launch in January 2021.
---
Racial Justice Initiative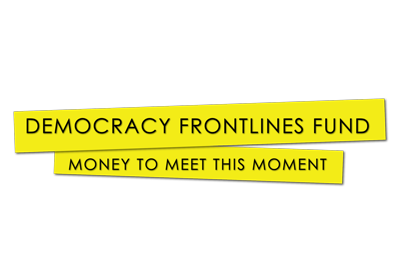 Democracy Frontlines Fund
(a project of Amalgamated Charitable Foundation)
$3,092,784 (over three years)
The Democracy Frontlines Fund is a collective giving consortium that will resource Black-led movement groups to fight vote suppression and shift resources from the carceral system to instead dismantle systemic racism and create alternatives to incarceration that reflect the vision of this generation's civil rights movement. Funder members also commit to disrupting harmful philanthropic practices that marginalize Black organizations and communities by providing multi-year general operating support, eliminating burdensome applications requirements, and participating in an ongoing learning community on issues of racial justice and equity.
---
Advancing Black Strategists Initiative
(a project of the Jobs with Justice Education Fund)
$250,000
The Advancing Black Strategists Initiative (ABSI) is a joint project of Jobs with Justice, the Black Worker Initiative at the Institute for Policy Studies, and Morehouse College that aims to change the face of economic justice in the American South. ABSI will teach, develop, place, and collaborate with a new generation of black lawyers, economists, government officials, researchers, policy advocates, professors, and journalists who have been historically excluded from leadership in today's economic justice movement. Through internships, apprenticeships, and fellowships, ABSI will build a pipeline of Black leaders committed to advancing policies that support collective power-building by working people.