Over the past decade, the Rockefeller Brothers Fund has awarded an average of $28 million per year to organizations working to advance social change.
2018 PROGRAM BUDGET

In 2017, the Fund awarded 236 grants, totaling $32.3 million. The average grant size was just over $130,000.
2017 GRANT DOLLARS AWARDED—by program

About 30 percent of the Fund's grants in 2017 were for more than one year.
New grantees received 20 percent of grants awarded in 2017, and of grants awarded to previous grantees, 53 percent were for new purposes.
U.S.-based organizations were awarded 79 percent of grant dollars in 2017. 38 percent of the Fund's 2017 support was for grantmaking with a focus outside of the United States.
2017 GRANT DOLLARS AWARDED—by type of support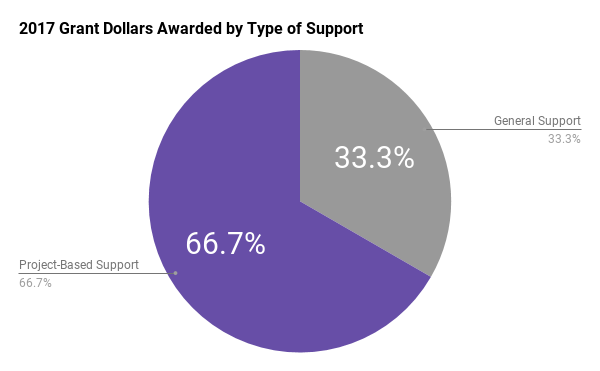 For more information, including a comparison of our grantmaking and other activities over the past three years, see the RBF's 2016 Annual Review, available online here or as a downloadable PDF.