Princess Lockerooo
A work-in-process showing
Image
-
David Rockefeller Creative Arts Center at Pocantico
Tickets: $15 (+$1.75 ticketing fee)
Princess Lockerooo will present a work-in-process showing during her residency at The Pocantico Center. Her new piece celebrates waacking, a dance form born in the Black, gay underground clubs of 1970s Los Angeles. First popularized on Soul Train, the expressive dance form nearly disappeared during the AIDS crisis but has re-emerged on social media and as a queer rights movement. This work honors Princess Lockerooo's mentor, pioneering queer Black waacker Tyrone Proctor, and the dance he championed throughout his life.
The Pocantico Center is a Works & Process Launch PAD ("Process as Destination") residency partner.
This event is presented in partnership with Works & Process at the Guggenheim and the RBF Culpeper Arts & Culture program.
The snow date for this event is Thursday, March 16.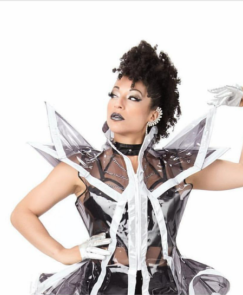 Princess Lockerooo
Samara Cohen, aka Princess Lockerooo, is a performance artist, content curator, educator, and activist with a 14-year tenure in the dance and entertainment industries. Her unique brand of entertainment stands for self-empowerment, equality, and sensuality without objectification. Princess Lockeroo has been showcased on the entertainment industry's leading television shows and worked with artists including Madonna, Jody Watley, and Icona Pop. She has produced entertainment for Lincoln Center, Summerstage, Women's Entrepreneurship Day, and SAP Next-Gen, among others.