Culpeper Performance Series: The Story Collider en Español
Image
July 13, 2022 | 6:30 - 7:30pm EDT
The Coach Barn Outdoor Amphitheatre
Tickets: $15 (+ $3 ticketing fee)
The Story Collider uses personal stories about science to reveal the vibrant role that science plays in all our lives. Lily Be Lucio and Juan Carlos host Story Collider's first live Spanish storytelling event and introduce you to four Spanish-speaking storytellers—Mark Pagan, Ro Moran, Eduardo Placer, and Dr. Ana Maria Porras—who share their true stories about science. NOTE: This event will be presented entirely in Spanish. A reception will follow the performance. The rain date for this event is Thursday, July 14, 2022. 
COVID-19 VISITOR REQUIREMENTS:
Tickets to all Pocantico events must be obtained in advance on our website. ALL TICKET HOLDERS must show proof of vaccination and a valid picture ID upon check-in. 
---
El Story Collider utiliza historias personales sobre la ciencia para revelar el impacto que la ciencia tiene en todas nuestras vidas. Lily Be Lucio y Juan-Carlos Martinez Jr. presentan el Story Collider's primer evento de narración en español y le presentaran cuatro narradores: Mark Pagan, Ro Moran, Eduardo Placer y Ana Porras, quienes comparten sus historias sobre la ciencia. Una recepción seguirá el evento. La fecha de lluvia para este evento es el jueves el 14 de julio.
REQUISITOS PARA VISITANTES DE COVID-19:
Los boletos para todos los eventos de Pocantico deben obtenerse con anticipación en nuestra página de internet. TODOS LOS QUE COMPRAN BOLETOS tienen que mostrar prueba de vacunación y una identificación válida con foto al momento del check-in.
Lily Be Lucio
Lily Be Lucio is a Senior Producer at The Story Collider. Born and raised in Chicago's West Side, she is an award-winning storyteller, and the first Latinx winner of a Moth GrandSLAM championship. Lily's work centers on advocating for the marginalized and helping storytellers discover their voices and be heard. She is the creator and producer of Chicago's Stoop Style Stories and has taught at Second City and colleges and universities worldwide.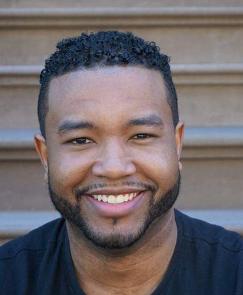 Juan Carlos Martinez, Jr.
Originally from NYC, Juan Carlos Martinez, Jr. now resides in Tacoma, WA. He is a proud graduate of Stony Brook University. He has a background in stand-up comedy and has been the host of the "Revisionary Podcast" since 2020.
Ro Moran
Ro Moran's storytelling credits include the event series "Prose of Pie," " Tiny Tales," and other open mic shows. When Ro isn't telling tall tales, he is a social justice warrior for a national human rights nonprofit.
Eduardo Placer
Eduardo Placer is a story doula, working with those poised to make the biggest difference and empower them to speak their truth with authenticity and power.
Mark Pagán
Mark Pagán is an award-winning filmmaker, audio producer, writer, and graying b-boy. His audio work has appeared on Code Switch, WNYC, Latino USA, TED, and others. His films and performances have been shown at Slamdance Film Festival, Maryland Film Festival, RISK!, The Moth, and other festivals worldwide. Mark is the host and creator of the award-winning podcast "Other Men Need Help," a docu-essay on how men present themselves to the world.
Dr. Ana Maria Porras
Dr. Ana Maria Porras is a biomedical engineer who studies the human gut microbiome and is always finding new ways to engage with the public in the United States and Latin America using her crocheted microbes.