Grantmaking is at the core of the Rockefeller Brothers Fund's mission. In 2018, the Fund moved the entire grant application and reporting process to a new online portal to reduce administrative burden for both Fund staff and grantees so that they can focus more time and energy on their work to build a more just, sustainable, and peaceful world.
The Fund awarded 322 grants in 2018, totaling $34.1 million. The average grant amount was $97,000, the same as in 2017.
Twenty-four percent of grants made in 2018 were awarded to new grantees, which reflects a slight increase over 2017. Of grants awarded to previous recipients, 36 percent was for new purposes. The majority of 2018 grants were for one year; only 28 percent was for two or more years.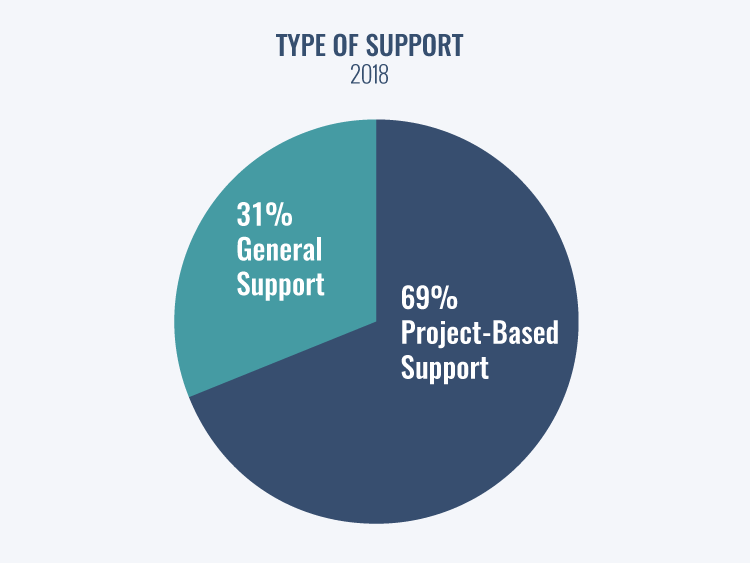 Nearly one-third of all grant dollars awarded in 2018 provided general support to assist grantees in meeting core operating needs. General support has consistently constituted 20–30 percent of the Fund's annual grantmaking, but varies year to year and by program, depending on the nature and size of grant requests. Much of the Fund's project-based grantmaking also supports university programs and fiscally-sponsored organizations. Although these grants are categorized as "project-based" to reflect their institutional structure, in practice they function as general support.
The Fund's thematic programs focus on the United States, complemented by international work, to strengthen the vitality of democracy, secure just and durable peace, and advance solutions to climate change. Pivotal Place programs pursue these thematic goals as appropriate to the specific contexts of China and the Western Balkans.
Seventy percent of 2018 grant dollars were awarded to U.S. organizations. Just over half of grant dollars, however, were used to support work outside of the United States through the Fund's pivotal place programs, as well as through the Peacebuilding program, the Democratic Practice program's Global Challenges portfolio, and, to a lesser extent, the Sustainable Development program. The discrepancy between these two figures stems from the Fund's support for the international efforts of organizations who maintain headquarters in the United States. Many of the Fund's grantees work outside of the geographic area where they are located.
Staff make every effort to support local organizations whenever possible.
Grant Payments
The Fund made grant payments in 2018 totaling $32.4 million. This figure differs from grants awarded because some grants are payable over more than one year. It does not include payments for non-grant appropriations, including consultancies and conferences at The Pocantico Center, which advance the Fund's mission but do not take the form of traditional grants.
Grants paid include external donor contributions used to expand the Fund's available resources and impact. In total, the Fund drew on $3.8 million in contributions from individuals and other foundations to support 2018 grants paid to support the Peacebuilding, Pivotal Place: China, and Pivotal Place: Western Balkans programs, and the Special Initiative for Egypt.
2018 RBF Annual Review ​